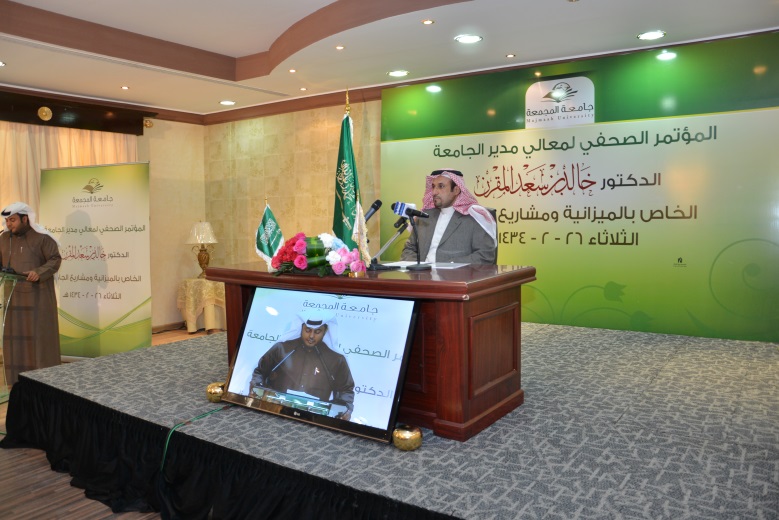 * Unifying publication of colleges' news and making the Public Relations and University Information the only source of all University news.
* Boosting relations with the different media apparatus and providing the Saudi Press Agency and daily newspapers and websites with the news and activities of the University.
* Visiting managers of newspapers offices in Al Majmaa frequently to build relations with them and explaining to them the importance of publishing the University news to the local and national societies and highlighting the University name among Saudi universities.
* Contacting with all media apparatus on all raised issues and responding to all questions and inquiries.
* Following up all University news published in different media apparatus and websites and respond to them if deemed necessary.
* Invitations were sent to newspapers offices managers and representatives and supervisors and photographers of websites to attend the University's occasions.
* Coverage and documentation of more than 150 occasions inside the University including visits, participations, activities, celebrations, meetings, exhibitions and workshops.
* Publication of more than 300 press coverage between report, article, statement and congratulation pertaining to the University and its activities in a number of newspapers.
* Providing Riyadh Region Jawal with the University news which are distributing to all subscribers through SMS or mobile messages.
* Providing Alfaiha Jawal with the University news which are distributing to all subscribers. Jawal Alfaiha provides news services to its customers about Al Majmaa through SMS.
* We have subscribed in the academic online portal of King Abdul Aziz City for sciences and Technology which is considered the main source of news for the universities and academic establishments. We are supplying the online portal with news of the University.
* We have subscribed in the most distinguished sites and newspapers in the Internet and providing them with news and periodic reports about the University as well as following up all reports about the University in the websites.
* Following and updating the University news and activities in the University Online Portal.
* University pages were designed in a number of websites which were opened by the University Rector as follows:
The social website "Facebook).
Tumbler website
The University page on photos website "Flicker".
* A press conference was organized for H.E University Rector who spoke about the University budget and its future projects. The conference was attended by representatives of different media.
* Cooperation with the medical services department in arrangement and coordination for the University participation in the 26th National Festival for Heritage and Culture (Al Janadriyah) through modern mobile clinics.
* Covering and documenting the external activities of the University.
* Accompanying H.E University Rector in his visit to HRH Prince Salman bin Abdul Aziz and a number of his visits abroad.
* Covering activities and participations of the Students Affairs Deanship in universities championship in football, volleyball and table tennis.