Given particular importance of scholarships in the Majmaa University, an administration that is concerned with the affairs of scholarships and scholars, has been launched to serve the scholars of the university at home and abroad. It is one of the administrations of the Deanship of the postgraduate studies since the Director of Scholarship and Training is related to the Dean of postgraduate studies. Indeed, the administration is considered a bridge between the colleges of the university and the Saudi Cultural Missions in the different countries of scholarship. And, it takes all the necessary procedures to deliver all what a scholar needs from his college and all what colleges need to deliver to its scholars, as well as following these procedures until they became issued in the form of administrative decision, if necessary, as in the following cases: scholarships, the extension of a scholarship, changing the university, changing the section, scientific trips, training sessions, and ending the scholarship.
                                                             The Vision
             The rehabilitation of the university employees to get scientific degrees in various disciplines of the distinguished universities in the world
                                                               The Mission
             Working on the facilitation of the scholarships procedures, its activation it through the technical means and effective tools, and the commitment of quality standards and professional performance to achieve the university orientations toward excellence
                                                    The Organizational Relation
              The Deanship of Postgraduate Studies
                                                       The Overall Objective
             The supervision of the procedures of scholarship and training and ending the administrative requirements for the scientific rehabilitation of the university employees to get scientific degrees
                                                                   Tasks
              The Scholarship Administration assumes a number of tasks and administrative procedures, namely:
             -The request of the Ministry of Higher Education approval on scholarship, and the issuance of the financial security for the concerned universities.
             -Scholarships to study languages
             -Scholarships for postgraduate studies at home and abroad
             - changing the place of study
              -extension of the study of language
              -to upgrade the scholarship of language to the Master degree, and from Master degree to the Doctorate
              - The extension of scholarships for postgraduate studies at home and abroad
              - changing of sections
               -Scholarships postponement
               -Ending of scholarship at home and abroad
               -scholarships, extension, upgrade, and ending the scholarship in the first semester of the academic year 1434/1435 AH
              Scholarship holders inside and outside the kingdom by sex
| | | | | |
| --- | --- | --- | --- | --- |
| الجنس | المبتعثون | تمديد الابتعاث | ترقية البعثة | انهاء الابتعاث |
| ذكر | 23 | 25 | 7 | 11 |
| انثى | 17 | 9 | 2 | 11 |
| المجموع | 40 | 34 | 9 | 22 |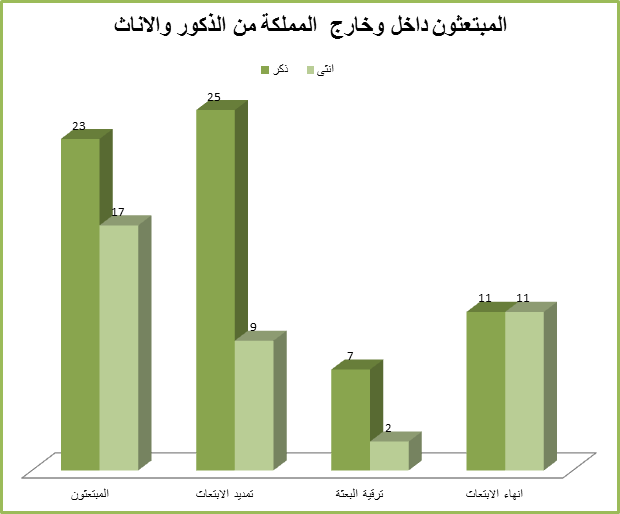 Scholarship holders inside and outside the kingdom by the direction of scholarship
| | | | | |
| --- | --- | --- | --- | --- |
| نوع الابتعاث | المبتعثون | تمديد الابتعاث | ترقية البعثة | انهاء الابتعاث |
| داخلي | 21 | 7 | 0 | 11 |
| خارجي | 19 | 27 | 9 | 11 |
| المجموع | 40 | 34 | 9 | 21 |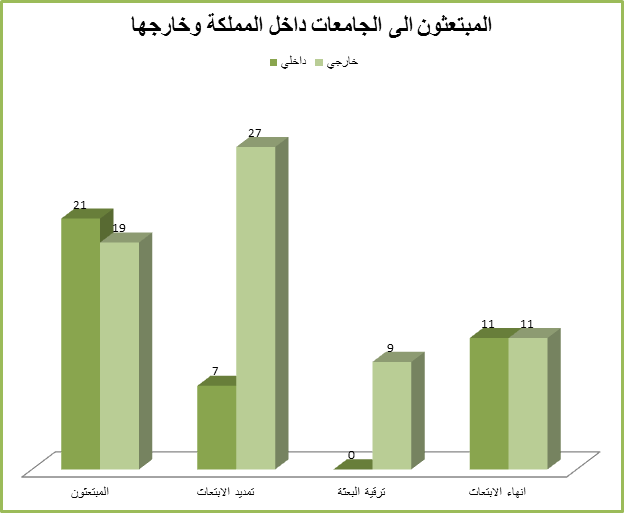 Scholarship holders inside and outside the Kingdom by colleges
الكلية

المبتعثون

الكلية

المبتعثون

كلية العلوم والدراسات الإنسانية بحوطة سدير

6

كلية الهندسة

2

كلية التربية بالمجمعة

4

كلية العلوم والدراسات الإنسانية بالغاط

4

كلية التربية بالزلفي

5

كلية المجتمع

1

كلية العلوم الطبية التطبيقية

4

طب الاسنان بالزلفي

2

كلية العلوم بالزلفي

2

كلية العلوم والدراسات الإنسانية برماح

2

كلية الطب

6

كلية ادارة الاعمال

2

المجموع

40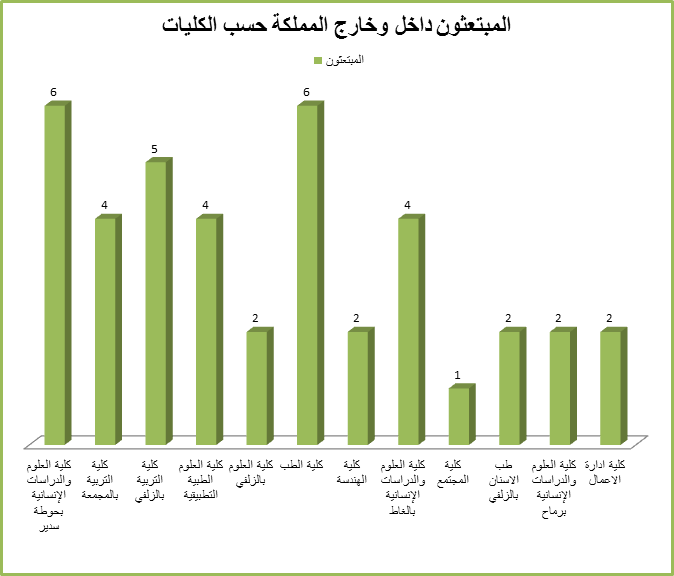 Students who ended their scholarship